Do your sims need a break from the hustle and bustle of their busy city lives? Is your sim's New Year's resolution to stop and smell the flowers? Then this home is for them! This beautiful cabin style property is spacious yet cozy. The answer to your sim's quest for rest and relaxation. Your sims will enjoy this property as a vacation spot or their year round home.
Features four bedrooms including a master suite, a living room with a fireplace perfect for curling up with a good book on those cold winter nights, eat in kitchen, family room, two additional bathrooms (third can be found in the master suite) and an attached two car garage. Lots of outdoor space, covered front and back porches. Back porch is a great space for entertaining. Sprawling backyard with playground and a swimmable lake.
Purchase this property now and make 204 Ridgeway Drive your sim's home or their home away from home!
Lot Size
4x4
Furnished-
$219,586
Unfurnished-
$146,437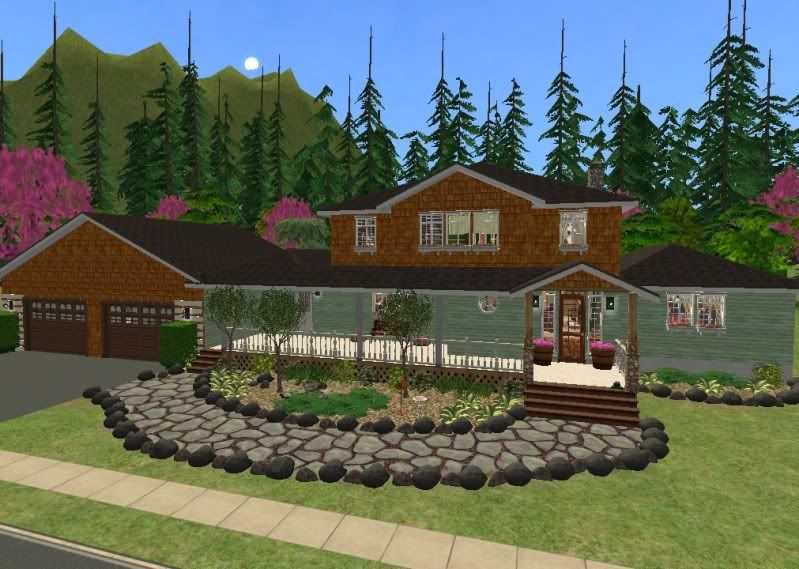 Not Included
Lafenetre round window by
windkeeper
Craftsman set: 1 tile door, kitchen window closed, 1 tile tall narrow closed- right, 1 tile tall narrow closed window, sliding glass door, symmetric poly-molecular Matrix window, by
tbudgett
The Shakerlicious Kitchen Set by
buggybooz
Clear Transparent tile by
RGiles
(MUST HAVE FOR SWIMMABLE LAKE)
Included
painted plaster by
sweetswami77
Avery Pecan Floor by
sweetswami77
"CAMPAGNE" bedroom set by
sims design avenue
Mezzo Double Throw cusions by
sailfinsims
Mango Tableau
Mango Sims
Mango Tableau Recolour by
AngelFrouk
Stepping Stones Terrain Paint- by
nengi65
"Embossed" Damask Wallpapers beige by
sarah*rose
Jope bath3 Mirror and recolour by
simply styling
Flowerbox/ white by
nengi65
The thirstiest bathmat (Large Bathmat & Small Bathmat) by
MogHughson
Flower Arrangements by
macarossi
Candles Galore! by
Paleoanth
Simple Kitchen Curtains Double by
mustlucatz
Weathered walls by
himawara106
OFB Floor light converted to be ceiling spot light by
Ailias
Contemporary and Wood by
Indycent Sim Creations
Maxis Bedding Match Curtains from Ethan Allen bedroom set by
Ambular
Modern Blinds Set #2 by
Ailias
Cheap Eazzee puffy lounge chair by
Ailias
Exquisite Shelves and Glass Shelves by
mdhttr323
Campagne Dining Set: new meshes & recolors by
-Maylin-
Lil' Jailbird Canopy Crib bedding match & Good Times Changing Table bedding match by
Menaceman44
Pacific Living Collection by
sailfindragon
Simple Kitchen Curtains by
nengi65
Terrain paint by komosims
-closed
Download here:Furnished
-
http://www.mediafire.com/?evv353oi4n38e9m
Unfurnished
-
http://www.mediafire.com/?z5abub8mwfogomj