This story was inspired by Breaking Benjamin song, thus the title. After hearing that song the idea develop and I'm posting this. I always wanted to write a long story with a deep plot, and Strangetown seemed like a perfect place for the setting. Original concept much more different, but I actually love in what it developed. The beginning might be tiny bit confusing, but things get clearer in chapters after, I promise. I hope you guys enjoy it as much as my other stories.

Prologue
StrangeTown, 1989.
Darkness has surround the dessert of the town. Radiated steam was slowly rising above the ground as young woman run down the street. Thunder could be heard in the distance and lighting was elumintaing the sky as the giant camera flash. Young woman held on to something that was covered in a lot of blankets, as she run down the street of an empty town. Tears run down her cheeks and she hid in the alley and blended witht he shadows. She held the blankets closer to her chest and breathed heavily. Two soldiers run by the alley she was hidding in," Where'd she go?!"
" I don't know pal, Let's keep on running, we will catch up! Those darn bats using darkness to their advantage..." Their voices faded. Young woman looked down and moved corner of the blanket revealing a pale baby. Baby had red hair and it was peacefully sleeping, completely unaware of the surroundings. Young girl smiled as she kissed baby's forehead," Mommy won't let them take you sweetie!" Mother hugged her child. She covered the baby with the blanket again and peeked out of the alley. She made sure no one was around and run back up the street. It started raining. Mother covered her child from the rain and sped up. She run up to the grungy looking house. Even after nuclear fallout that struck the town few months ago, house looked pretty good, even if the obvious repairs were made with cheap and rusty materials.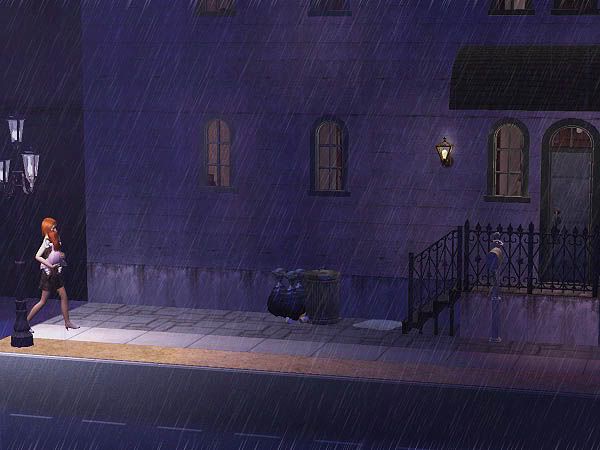 She violently knocked on the door.
" I'm coming I'm coming, hold on!" Low masculine voice replied. A tall pale young man opened the door and looked down. He had a lot of facial scars and his hair was long and messy," Maria? What are you doing here?"
" Walter you gotta help me..." Maria cried as she stepped in the house.
" But of course!"
" They are after me I can't stay here..." She cried harder as she shook violently.
" I'll hide you!" Walter offered.
" NO!" Maria cut him off," If I hide they will take all three of us down, I can't let that happen! Here!" She handed Walter the baby," Take care of her please..."
" Maria..."
" They attacked us Walter. Michael went down as they he was defending me. We are the survivors of the nuclear explosion that took place at the facility. Vampire as plotician? No, it's an outrage. They killed him Walter...They killed him..." Maria broke in tears," He told me to run and save myself and Jane..."She said as she lifted the blanket. Little girl opened her eyes.
" Oh my..."Walter exclaimed as she looked at the girl. Even this young, she looked like her mother.
"Please..." Maria pleaded," please, Walter, You're my closest friend, I trust you. Take care of her, raise her as your own. She will be safe here. You are one of the few outcasts they don't bother. Please..."
" Maria, I don't know..."
" My time is done...At least I will die knowing she is safe..." She said as she stroked Jane's cheek. Jane gigled," please? When time comes, tell her the truth."
" I..." Walter stuttered.
" Please Wally..." Maria cried.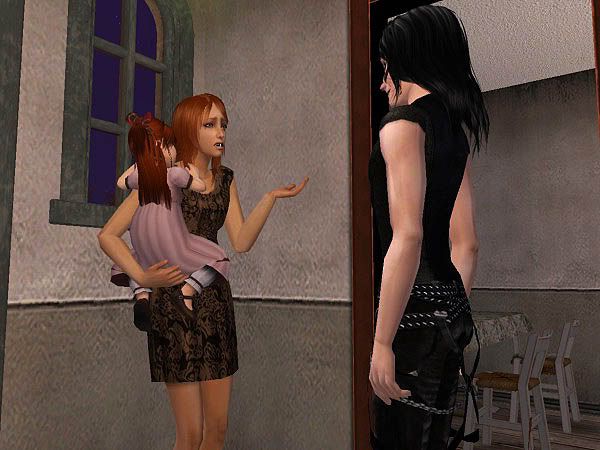 " Alright...I'll do this..." He said. It was hard for him. He knew Maria for the longest time and her bravery amazed him. He flinched as he heard the soldiers few blocks away. The Explosion gave him sensative hearing and he really hated it in the moments like this," Oh no..."
" They're coming? sweety, mommy loves you, don't you ever forget that..." Maria kissed her daughter," I love you...Bye Walter." Maria smiled at her friend as she backed away to the door," Thank you. Thank you so much!" She cried," Goodbye Jane. Listen to Walter and be a good girl...goodbye..."She whispered as she disapaered behind the door. Walter heard her run down the steet.
" There she is!" Soldier shouted as he run down the street. Gun shot. Walter held Jane close to him. Girl cried as she heard loud noise.
" Come here mutant!" One soldier screamed. They were at least five blocks away but Walter heard them as if they were in the house. Maria gasped as she got pushed," Any last words before your silver bullet execution? Be happy I grant you that after the chase you caused us!" Soldier barked.
" Yes..."Maria cried," Walter I know you hear me. Thank you...for everything..." She paused.
" Done?" The other asked.
" ROT IN HELL!" She screamed at the soldier. Soldier screamed. Gun shot. Splater. Thump.
" Paul, you alright..." The other soldier asked.
" Yeah...She jumped me...They are freaks man, they are freaks!" He cried out. Walter looked down at Jane. Jane peacefully slept on his shoulder. Walter swallowed his tears held the girl close," Let's get you to bed." he sighed as he walked up the stairs.
Strangetown is never going to be same again and every resident knew it.