This is a little one shot story about what happened to my Bachelor: Hawaiian Cruise contestant after the contest. Since it's a little long, I thought it best to post it here. Enjoy.
Those of you who were following the recent Bachelor: Hawaiian Cruise contest here will recognize Emmie. The title for this post comes from the fact that she made it all the way to the very end, but Antonio chose Janessa to be his bride instead of her. Emmie was diappointed, but she's not bitter. She and Antonio are still friends and she hopes that she and Janessa can be friends as well.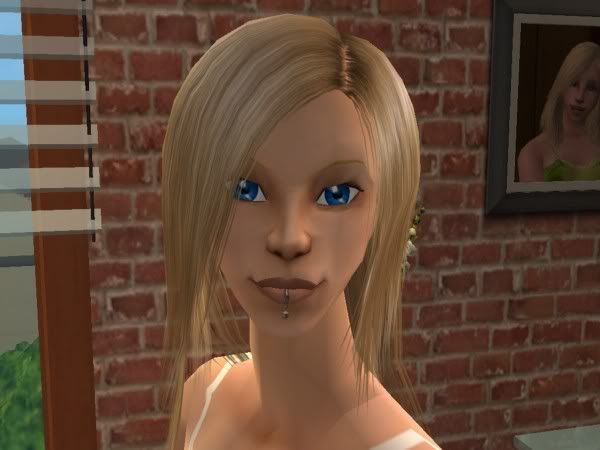 After returning to SimAngeles, Emmie made some changes in her life. First off, a new look. Then she spent a week living in a loft while her new home, courtesy of her real estate tychoon & magazine publisher uncle, Aristotle Seattle, was being remodelled.
After an exhausting day of moving in, Emmie decided to relax by indulging in a little stargazing. Everything was fine until the flying saucer stopped by to "pick her up". By the Great Hairy Llama's Beard! Don't guys call up before they stop by to pick a gal up anymore?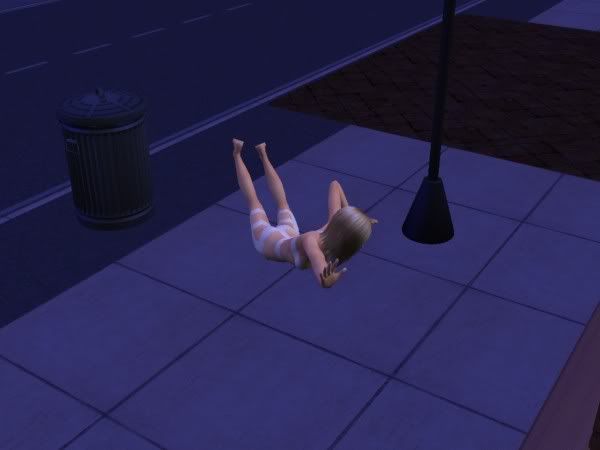 As if being abducted wasn't humiliating enough, Emmie found herself divested of her comfy lycra sportswear, poked, prodded, PROBED, and dressed in bandages that didn't quite have her in compliance with the community public dress standards. And to add injury to insult, they merely chucked her out of the saucer after her "date"...FROM 4 STORIES ABOVE THE STREET! Good thing Simmies bounce.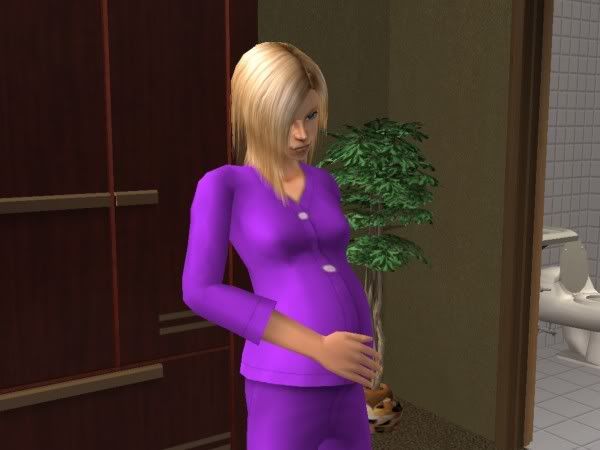 Emmie is one of those fortunate gals that is immune to morning sickness. I can't post most of her preggers pics because Emmie found maturnitywear to be rather unflattering and constricting. So she spent most of her pregnancy wandering around her home "au natural". This is a shot of her in her 3rd trimester getting ready to go outside to get her mail and the morning paper. Emmie spent most of her pregnancy study for her realtor's license and took the test online, which she passed with flying colors. Before entering Bachelor: Hawaiian Cruise, Emmie was a photographer for her Uncle Ari's magazine, JetSetter. She has changed her status at the magazine to Contributing Photographer and is going to learn the ropes at SimNational Homes 451. After all, SNH451 is a family business and she will be asked to become CEO when her mother retires in 15 or 20 years.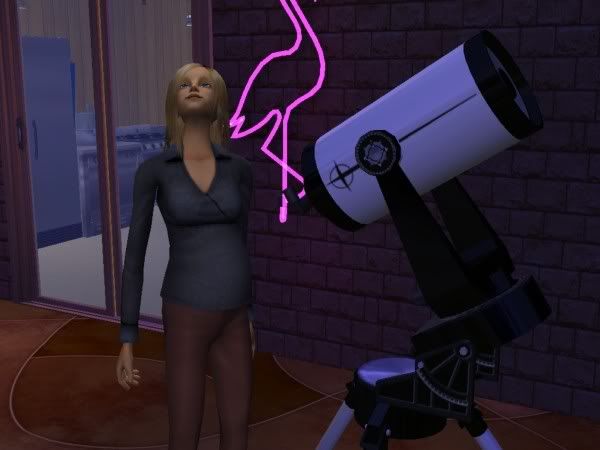 Emmie spent the last night before her due date searching the heavens for any sign of her baby's father. If nothing else, she wanted to establish paternity for the little tyke. And as is far too typical in these "overnight affairs", the daddy didn't bother to call her let alone stop by and see how she was doing.
Emmie welcomed little Franklin Elias Haydon into the world at 8:38am the following morning. Despite the unusual circumstances of his conception and the fact that she is unmarried, Emmie is ready to face the future with her special man. Her family & friends were very supportive during this trying time and she feels confident that she can make a good life for little Frankie. Come and and say it with me. You know you want to. On three... 1... 2... 3...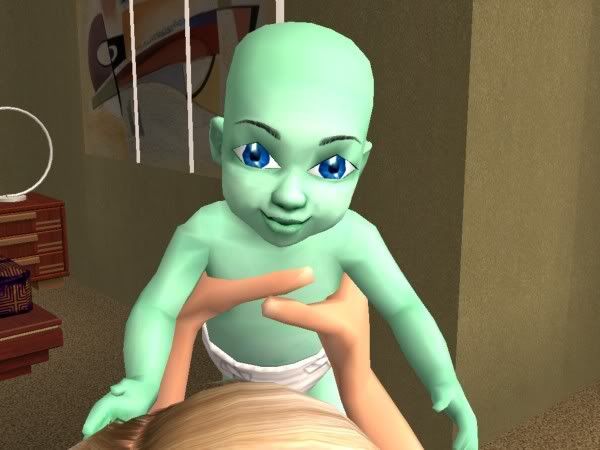 Aww...Isn't he just the cutest, most precious little guy?