Preferably Born in game Alien sims but also any great alien sims you have created or downloaded!

I looked for this kinda thread already and couldnt find one, so I hope its okay that I started one up. I am very curious to see everyones aliens! I so wish they would put them in the sims3, it would make the game better

Brandi Broke in my game has like 10 children, 3 of which are alien mixed girls. She married a man Quan who also had an alien mixed daughter the same age as her girls. They were teens and doing well enough for scholarships so I moved them all into the same dorm in college as young adults. I think they are super cute and alot of fun to play with!
Brandis oldest, Mercury Broke has very dominate Alien-ish features. Shes big time into science and also artistic. She is majoring in polical science.
Brandis next daughter, Marz is only 25% Alien and looks alot like Brandi. Brandi had a breif fling with a mixed Alien man named Zoombar in town. Shes a great character though. Romance sim but very skilled and smart, makes the deans list loves science also and arts like her sister.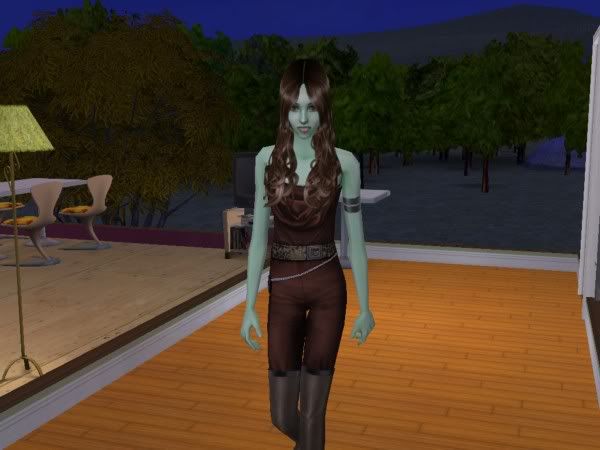 Brandis step-daughter is named Venus Kim Sung. (Her father is part asian, part caucasion... dark slanty eyes and blonde hair) She was hideous as a tot and child cause her eyes are FREAKIN HUGE but as a teen she grew more into them and even more so as a young adult. I mean, they are still FREAKIN HUGE :lol: but shes kinda cute.
for kicks, here Venus is as a teen getting abducted by aliens.
And heres Marz and Mercury as kids
I dont have a picture of their little alien sister yet, she is a child now and named Moonshine but will get some soon.