Hello :wave:
These are some more edits of a mesh by HIM666, different mesh this time, please download it
here
for these to work =] Am in a Male Content making mood at the moment...so expect more soon!
(Sorry for the picture's bluriness, I dont know why it did that)
These are not colour binned! They are retextured and alpha edited to give them a longer, fuller, straight look. They come in the four basic colours of Negra (black), Marron (brown), Rojo (red) and Rubio (blond)...something about the hair made me think of Spain, so I gave them spanish names :lol:
Now, there are some issues with this hair due to my alpha edits and the restrictions of the actual mesh = there are areas where the alpha looks "clipped", and the parting of the hair is black (this is most obvious on the Rubio hair), sorry I can not fix these!
Policy in a pic (whee!) :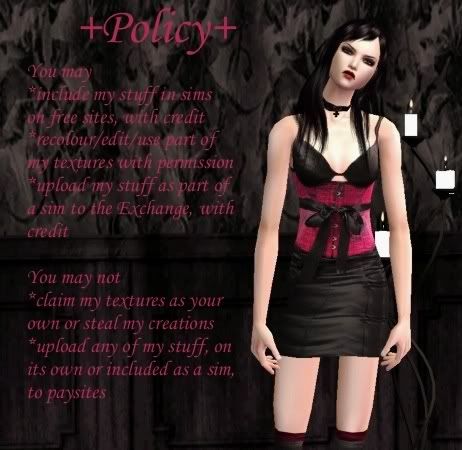 Credit and Thanks:
HIM666
Helga
[/I]
Enjoy! Leave a comment if you like