The SmythesInstant Neighbors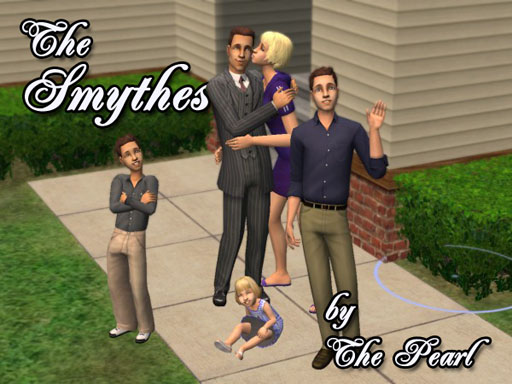 The Smythes are a very happy, well-adjusted family.
Harold Smythe graduated with a degree in economics and is now a junior executive in his company. His wife Betty has a degree in art but hasn't pursued a career yet; she has been too busy raising their three children!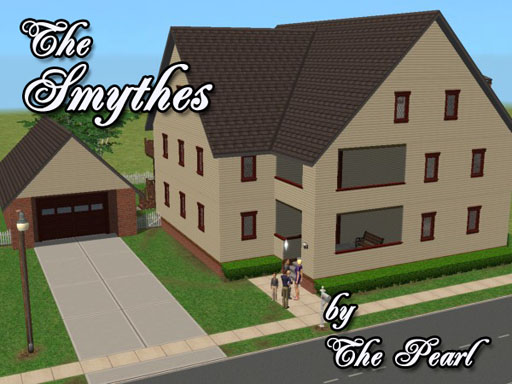 They live in a large upper middle class home.
It's an occupied, mostly furnished 3x3 lot that you can plunk down in your neighborhood.
Befitting Harold's income, they have a rather large upper middle class house. Four bedrooms, four baths, one-car garage.
What This Is
It's an occupied lot made entirely with Maxian content. I used some half walls so I think you'll need
Open For Business
installed to make the whole thing work, though if you use Clean Installer it should still work with any version of The Sims 2.
The house is mostly furnished. At least there's a bed for everybody.
The house is occupied by a family of five, all of whom are wearing Maxian clothes. The clothes might be from the original game, University, Nightlife, Open for Business, Family Fun Stuff, or Glamour Life Stuff.
The download includes only the lot segment and the family. All the outfitting and stuff should be pulled in from your existing game.
Where It Came From
The question came up on the adult site whether it might be possible to build lots with some nice neighbors to help populate a new, empty neighborhood. This was my first experiment with doing that. A few folks have already play-tested it and report that it works, so here we are!

You can drop this household into your game and never even play them if you're not so inclined. They'll provide some nice, well-adjusted folks to walk by your house and befriend your sims and their childen.
What I Did
I created the family in a completely empty neighborhood. None of the Smythes has ever met anyone outside their household, though all of them have seen the papergirl. That's important because it means they won't have memories that clutter up your neighborhood with "unknown" sims.
I used the Insimenator to tune up the characters' personalities and give them a reasonable set of skills.
I tried to be careful to build the house exclusively with Maxis content, but it still didn't work as I had hoped. I am now convinced that the only
totally
safe way to build a house and avoid including custom content is to have a separate, "building" version of the game with zero non-Maxis content.
After building their house and partially furnishing it, I exported the lot. Then I used Clean Installer to eliminate everything in the exported file except for the lot segment, the characters, and a catalog filenamed "Smythe." (I don't know what's in the catalog but I figured it couldn't do much harm. Apparently it doesn't. It might be their clothing chest.)
What's In The Zip
The zip file attached below contains a .Sims2Pack file with the lot segment, the characters, and the "Smythe" catalog (whatever that is).
If you install the lot, and if you have all the same expansion packs that I do, everything will fall into place. The characters should be dressed the way they're shown here and they should have the appropriate family relationships, skills, personalities, and everything else. And they shouldn't cause any "unknown" sims to show up in your neighborhood.
Expansion Packs
I have installed all the expansion packs and stuff packs up through Open For Business, and nothing after that.
----------
Downloaded for personal use only. If you upload this lot to the EA Exhange or some other wretched place, your great-great-great grandmother will rise from her grave to slap you silly.